After years of waiting, an IWI US plant have been set up, and the Tavor TAR-21 line of civilian carbines is expected to be their first production. Prototypes of these rifles have been seen at events like the 2012 Bullpup Shoot, and show substantial changes and upgrades from the Israeli-made semi-auto carbines found in Canada. To our knowledge no dealers currently have stock of the IWI US Tavor's but they are expected in the first quarter of 2013.
IWI US had to come up with a new model designation for this gun to distinguish it from the TAR 21, whether it was a full auto TAR 21 or the Canadian semi-auto TAR 21. This semi-auto (SAR) is quite different from what was sold in Canada. The Canadian version could not be sold in the US because it is uses parts not made in the United States. ATF would not approve it. However, the SAR is extremely difficult to ever convert to full auto and has been approved by ATF. Hence, the new designation, SAR (Semi-Auto Rifle)
We'll have more updates as they become available. The planned line looks like this:
TAVOR SAR 16.5″ Barrel in Flat Dark Earth
MSRP: $1999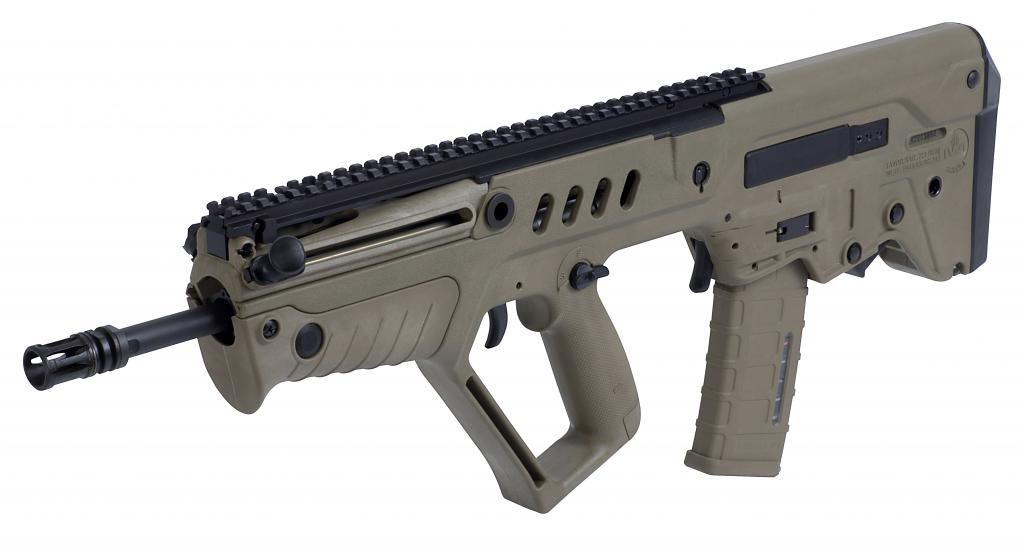 TAVOR SAR "IDF" Model with 16.5″ Barrel + Mepro-21 Reflex Sight
MSRP: $2599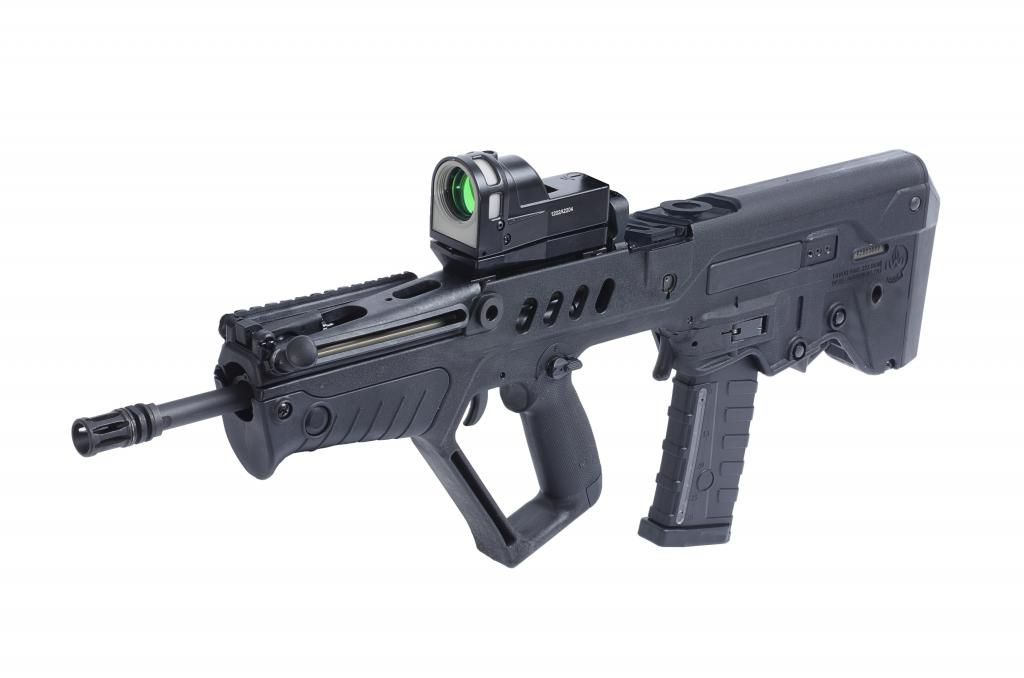 TAVOR SAR 16.5″ Barrel – Left Hand, Black
MSRP: $1999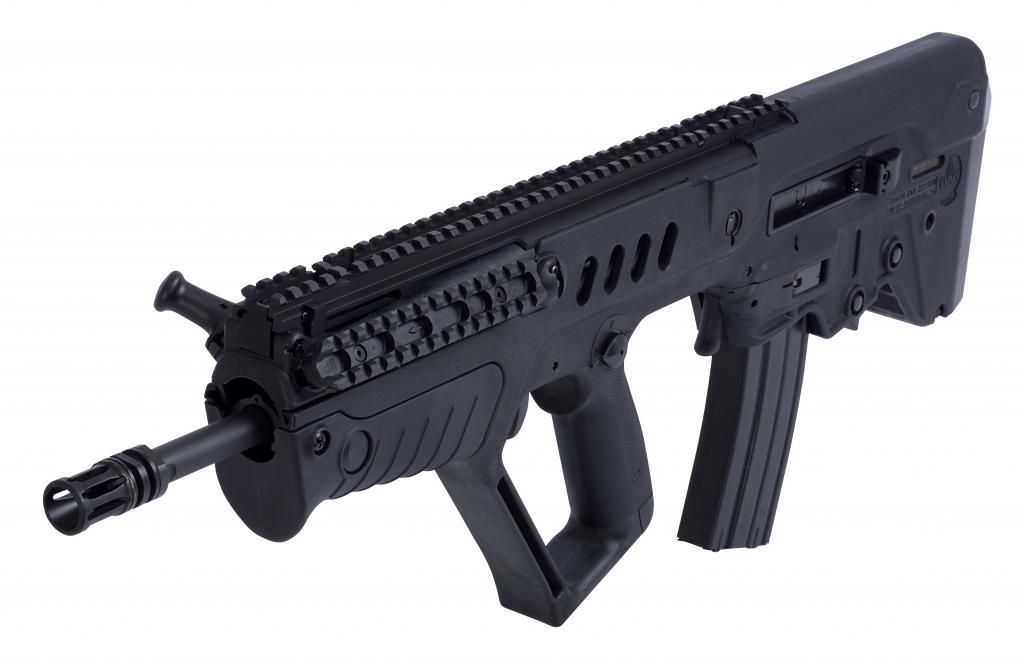 TAVOR SAR 18″ Barrel, Black
MSRP: $1999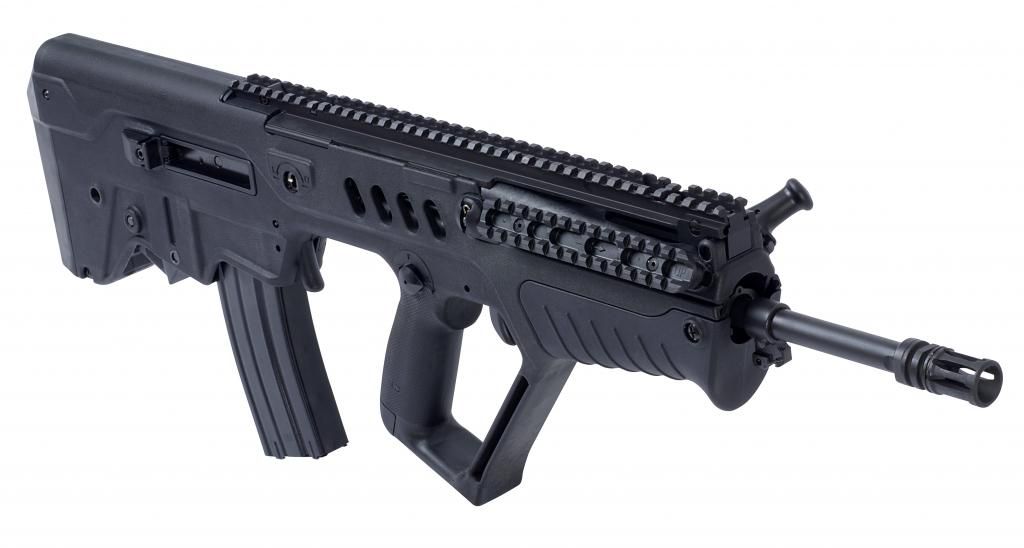 Acessories Currently Listed:
IWI TAV0R SAR CONV KIT 9MM 1-32RD
MSRP: $899
The 9mm conversion kit for the IWI SAR-21 rifles adds a 16″ barrel, magazine well adapter, and full bolt, and bolt carrier assembly. This unit converts the rifle to a direct blow-back sub-gun and as a result can be flipped from left to right hand configuration with the same bolt. Availability expected Mid-June 2013

IWI TAVOR SAR LEFT HANDED BOLT:
Although the rifles are available from the Factory in a LH configuration, the left-handed bolt is the only part needed to convert a right handed rifle over. All other aspects of the rifle are totally ambidextrous and can be done without a gun-smith. This kit will also include a barrel wrench to aid in the dis-assembly process.
IWI TAVOR SAR CONV KIT 545X39 1-30RD
MSRP: $899
The 5.45 conversion kit is scheduled for later in summer 2013 and will require only a barrel and bolt to switch the Tavor into this extremely affordable caliber.